Services
Custom design
Contrary to popular belief a custom designed piece of jewelry can be as affordable as a mass produced jewelry. The process begins with conversations about lifestyles, business professions and desire. Counter sketch and ideas are formed, based on these conversations.. CAD design is also available. Diamonds or gemstones are selected and the building of the design begins. Metals are then determined, we can do any metal. Our bench jeweler will hand carve a wax model for your approval. At this point we can weigh the wax and be able to determine finish metal and cost. Start to finish jewelry can be completed in as little time as 10 to 14 days. A Great way to get a unique one of a kind piece of jewelry you will treasure forever.
Appraisals
We are happy to offer appraisals for insurance claims and personal use (free initial appraisal when you buy jewelry from us). Appraisals include; accurate values for repair/replacement, mounting and stone information, detailed description of jewelry.
Can be updated upon request every 2 years.
Appraisal cost will be determined by a time + effort basis
Diamond cutting done in house by John Christian Buchholz (Graduate Gemologist & Merchant)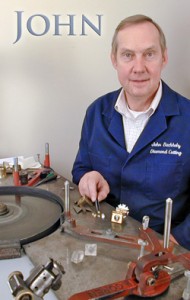 John Christian Buchholz entered the diamond business after training and working as an apprentice at the American School of Diamond Cutting graduated in 1976.A graduate journeyman cutter, Mr. Buchholz is the only certified diamond cutter and graduate gemologist in Colorado. He founded the John Buchholz Diamond Company in 1976, and has been cutting diamonds for 36 years. Today John cuts all shapes and sizes of diamonds to finished gemstones. John also recuts old mine and European cuts.
Jewelry Repairs
We gladly will help you with any repair needs you have this includes; Jewelry Repairs, all metals, Prongs, Shank, Setting, Replacing stones, Re plating, Engraving, Stringing, and Sizing+-.