March Madness Contest Entry!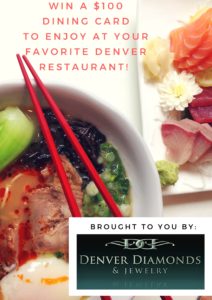 Everyone has their passion.
Denver has been a buzz with 2018 Denver Restaurant Week: restaurants have enjoyed a brisk business and foodies have savored dishes by new and seasoned culinary talent around the Mile High City.
Others are busy figuring out their brackets as we get ready for the tradition of March Madness.
We thought we'd combine the two! Fill out the few information "brackets" below – including a valid email in your submission. We will draw one name on Friday, March 30th at 6pm and the winner will receive a $100 Restaurant Gift Card to enjoy at the restaurant of your choice! Do it now, and share with a friend to double your chances of winning!
The winner will be notified via the email provided the first week of April & we will announce the winner's first name and home city on our social media at the close of the contest. Good luck!